Rosendo E. Santos, Jr. was born September 3, 1922, in Cavite City, Philippines, son of the late Rosendo and Castora Santos, and died November 4, 1994 at home in Swoyersville, Pennsylvania. He was educated in Cavite schools. He was a graduate of the University of the Philippines, Conservatory of Music, where he later served as a faculty member. He received his master's degree in theory and composition from the Catholic University of America in Washington, D.C., and later served on the faculty of the Catholic University, West Virginia University, and Howard University.
At age 11, he started composing band marches, instrumental and vocal scores and Catholic masses. He was later named a UNESCO scholar and received the Composer of the Year Award. In Manila he was Composer of the Year in 1956 and 1957, and won 12 prizes consecutively in composition contests. Most recently, he received the title of "The Philippine Composer of the Century."
Professor Santos joined the faculty at Wilkes University, Pennsylvania in 1968, where he performed as a timpanist, pianist, and conductor with several orchestral groups. He has also conducted church choirs in Maryland, New Jersey, and most recently at Lehman, Huntsville and Shavertown United Methodist Churches in Pennsylvania.
He composed the background music for J. Arthur Rank Films at Pinewood Studios in London, England, where he worked with Muir Mathieson and Malcolm Arnold. Among his teachers were Aaron Copland, Irving Fine, Humphrey Searle and conductor Norman Del Mar.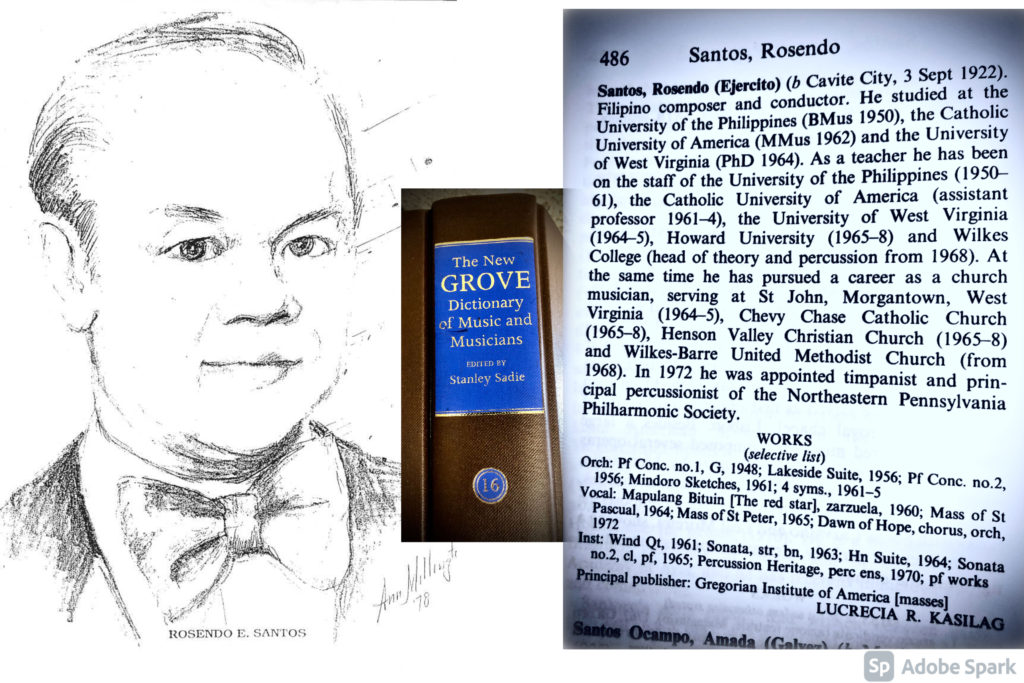 Mr. Santos is listed in the "New Groves Dictionary of Music and Musicians." A prolific composer, his works include concertos, sonatas, symphonies, symphonic poems, five operas in Philippine dialect, numerous band overtures and more than 200 marches. He wrote 50 masses in Latin and 20 in English and has more than 1,000 musical compositions in the library of the University of the Philippines.
An honored member of the Senior Mozart Club of Wyoming Valley, PA, Mr. Santos privately taught more that 2,000 children since arriving in the Wyoming Valley in 1968. His last musical work, "Melinda's Masquerade," his only ballet, was performed in 1995, after his death in 1994.
He was married in 1966 to Harriet L. Clendenin (1939- ), and then had three children, Erik (1967- ), Nathan (1970- ), and Jason Santos (1972- ).
The above image is the Rosendo E. Santos Memorial Alberta Spruce, located at Shavertown United Methodist Church, Shavertown, Pennsylvania.