Although Rosendo became (without precedent) accustomed to winning multiple monetary prizes for compositions, and became recognized by The Manila Times as, "Most Outstanding Young Man in Music," as a young composer one goal had yet to be realized: namely traveling and studying abroad. That opportunity arrived in 1956.
The United Nations Educational, Scientific and Cultural Organization was established in 1945. Its stated purpose is to contribute to peace and security by promoting international collaboration through education, science, and culture in order to further universal respect for justice, the rule of law, and the human rights and fundamental freedoms proclaimed in the UN Charter. The Philippines became a member state on November 21, 1946.
On January 31, 1956, Rosendo received a letter informing him that he unanimously was chosen by two screening committees to be granted the 1st UNESCO fellowship for creative composer award. Heading the first committee was Prof. Ramon Tapales, and serving on the new Screening Committee was head, Maestro Federico Elizalde, Sister M. Cecilia Donato, Messrs. Jose Quiroy and Rolando A. Garcia.
Below is the actual letter from Raul S. Manglapus, Undersecretary of the Department of Foreign Affairs, notifying of the results of the adjudication.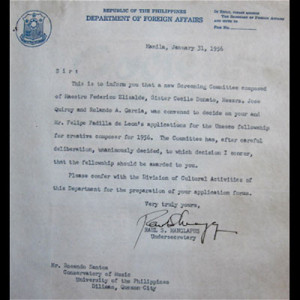 This fellowship provided for the residence to study at the Berkshire Music Center in Tanglewood, Massachusettes, as well as studies in Edinburgh and London.