In July, 1947, the University of the Philippines Conservatory of Music experienced an unprecedented increase in enrollment, and began offering a new curriculum revised largely through the efforts of then-director, Prof. Roman Tapales. In connection with that year's enrollment, a scholarship competition was held on June 14, 1947, and among the contestants a few special scholarships were awarded—Rosendo was the recipient of the Bedana Scholarship composition award, a full stipend to attend the University of the Philippines as a student.
While attending as a student, then later as faculty member, he won many prizes (tilts):
1. October, 1947: "U.P. Alumni" March Song Contest sponsored by the U.P. Conservatory of Music Alumni Association on the occasion of the 31st anniversary of the foundation of the conservatory.
2. January, 1951: "The U.E. March Contest" –The University of the East: composition to fit the lyrics written by Dean Jose M. Hernandez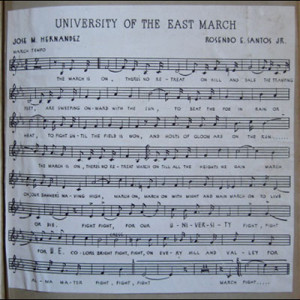 3. June, 1951: "The Philippine Republic March" –written on the occasion of the fifth anniversary of Philippine Independence.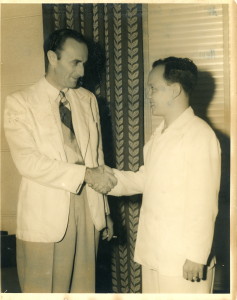 4. April, 1952: "National Scout Song Contest": The Boy Scouts of the Philippines Hymn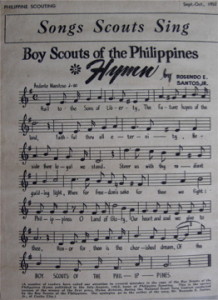 5. August, 1953: "Song Contest of the Manila Symphony Society for the Harvard Glee Club"

In 1953 the Manila Symphony Society co-sponsored with the Harvard Club of the Philippines a contest in arranging Philippine songs for male voices to be sung by the Harvard Glee Club in the United States. The winners, who received cash prizes, were Rosendo Santos Jr. of the U.P. conservatory of music and Romgn Salvacibn, for their arrangements of Sampaguita and Lulay respectively. These arrangements were given twenty-seven performances (in Tagalog) from coast to coast in the United States by the Harvard Glee Club under Professor G. Wallace Woodworth in 1953-54, thus helping to make Filipino music better known abroad.
He graduated with a Bachelor of Music from U.P. in April, 1952. He then immediately joined the faculty at U.P.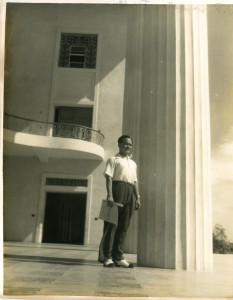 U.P. College of Music Library: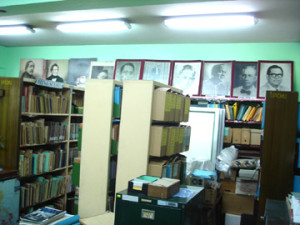 Pic of library with his picture on display with the descriptor: "Among the notable documents in the archives and special collections are: Filipino composers and College's resident performing groups individual files; band, orchestral, vocal, and instrumental scores; miniature orchestral scores; clipped newspaper and periodical articles on music; and other archival materials, e.g. anniversary programs, program notes, recital programs, and biographies/photographs of distinguished alumni, e.g., Prof. Nicanor Abelardo, Prof. Aurelio Estanislao, et al."