Rosendo's direction was forever altered in 1964 when he met Harriet Clendenin in Morgantown, West Virginia. It was with Harriet that Rosendo entered the most significant and fulfilling period of his life: marrying and creating a family.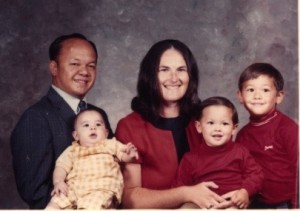 Harriet Clendenin was born in Gallipolis, Ohio in 1939.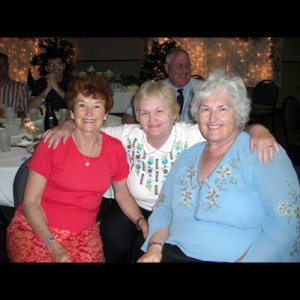 She was the second of three daughters to Harry and Varney Faye Clendenin (who as a school teacher, taught THE Bob Evans in her classroom!)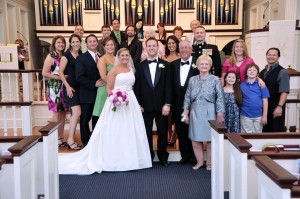 Ministry
After receiving an Elementary Education degree from Miami University in 1961, she was accepted to Garrett Theological Seminary in Evanston, Ill. (on the campus of Northwestern University). She was pursuing a Masters of Religion Education (this being 1962, she was one of the 1st graduates with this new degree in a class among 300 male, and a mere 30 female students. After her 1st year, she was awarded full scholarship for her second year (she was 1 of 5 nationwide to receive this scholarship!) She graduated near the top of class. She then was trained by the Board of Evangelism in El Paso, TX, and in September 1964, she was hired to be Director of Religious Education at Wesley United Methodist Church in Morgantown, WV. It was here that she met Rosendo while participating in the choir together. They were married in 1966.
Soon after the birth of their first son, Erik, in 1967, Rosendo was hired at Wilkes College in Wilkes-Barre, PA. This was followed by the birth of second son Nathan in 1970, and third son Jason in 1972. Although her main focus was on her family, she remained very active in leadership and education positions in various local churches. In 1980, she received her license to preach from Drew University Divinity School in Madison, NJ, and was appointed to Huntsville UM church as a part-time pastor. She then investigated the possibility of finishing a Masters of Divinity, and was accepted as a third year student (she believes that she was aided by Divine Intervention, as the registrar was an alumnus of Garrett and approved all her previous credits!)
She attended Drew U. and graduated in 1983 with a Masters of Divinity. In 1983, she was Ordained as a Deacon; in 1985 she was made an Elder. In 1984, she was appointed to part-time ministries at Huntsville United Methodist and Shavertown United Methodist Church, Shavertown, PA, and from 1986-96 she served as Full-time Co-Pastor at Shavertown UM with the Rev. James A. Wert. In 1996, she was appointed to Ashley UM Church, Wilkes-Barre.
In June 2001, she officially retired from ministry; however, within 24 hours of submitting her retirement announcement, she was appointed part-time at two churches in Pittston and Old Forge, PA where she served for eight years. Again, she was called by the Bishop to continue in ministry at various churches that needed interim pastors. She served four churches. Finally, she was asked to serve Wyoming United Methodist Church in Wyoming, Pa. as an interim and she will be starting her third year as pastor there. "Once ordained, always ordained!" This has been her motto as she continues to fulfill her spiritual calling.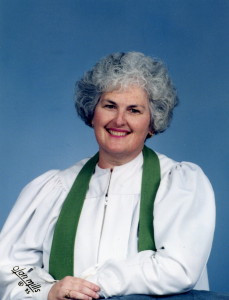 She also is certified in Hospital Chaplaincy and serves as Secretary-Treasurer on the board of Wesley Village, a campus for nursing home, personal care, and persons who live as independent residents. She has been on the board for ten years.
Music Career
Pastor Harriet's ministerial direction manifested later in her life; it was her earlier abilities in music that influenced much of her initial career decisions. Actually, it was through music that she and Rosendo found a relationship that led to marriage.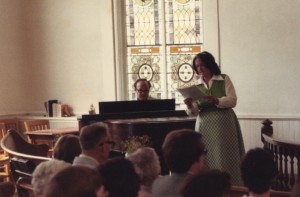 Throughout her childhood, she had a natural inclination and love for singing. She was chosen by her music teacher to help classmates with singing parts. She often sang solos in church. She taught herself to play piano and became the official accompanist for high school chorales. Even through she majored in elementary education at Miami University, she soon realized that her real desire was in music education; therefore, she graduated with a second major in Elementary Music. Beginning at fourteen years of age, she studied voice and continued as she entered higher education. It was in her junior year that she was told that she had a high level of talent to do professional singing. In her senior year, she was offered a scholarship for a fifth year just to study vocal pedagogy and possibly a career in professional singing. She, however, decided to begin a teaching career.
While she was in seminary, she studied at Northwestern University and sang as soloist at the large First Methodist Church of Evanston, Ill. She had the thrill of singing a solo when Martin Luther King visited that church to speak. She continued her singing when she became a professional church educator at Wesley Methodist Church, Morgantown, PA, where she met Rosendo Santos at a choir rehearsal. He wrote hundreds of solos for her throughout their marriage. Ros was always her accompanist throughout their entire marriage. In their first year of marriage, she sang at Ambassadorial functions in Washington DC. She was expected to sing in Tagalog (the Filipine local dialect.)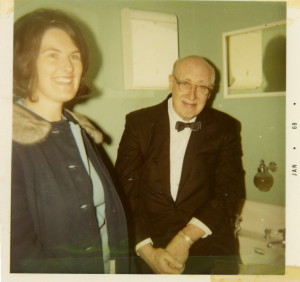 During the time that she spent raising her children in Wilkes-Barre, PA, she sang as soprano soloist for the Oratorio Society both in Wilkes-Barre and in Scranton, PA. She was also soloist for other professional groups. She served as President of the Mozart Club for three years, a group that shared classical music with the general public. She was the soprano soloist at B'nai B'rith Temple in Kingston, PA for over twenty years.
She taught voice to young students, and had the thrill of singing the National Anthem on two occasions the Lackawanna County Stadium AAA Red Barons ball park.
Rev. Santos has always used her musical talent in her ministry, singing at funerals and weddings. Currently, she continues to share her singing voice for many occasions.