Rosendo's compositional output was prolific, and his career was eclectic. He wrote, performed, and taught music of all occasions and styles. One area of enjoyment for him was the stage. This page highlights some of his achievements in composition, performance, and even acting!
UP Dramatic Club:
While serving on the faculty of the University of the Philippines, Diliman, beginning in 1954, Rosendo collaborated with Wilfrido Ma. Guerrero, director of the UP Dramatic Club. Rosendo composed music to be included in the stage productions. Listed below are the productions: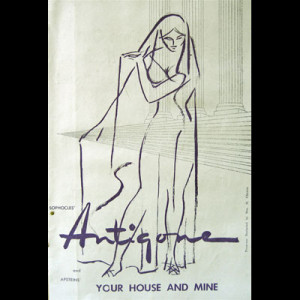 1. Sophocles' "Antigone" Aug. 3-8, 1954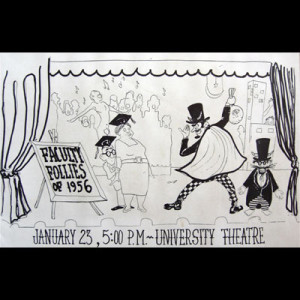 2. W.B. Yeats' "Purgatory" (one-act play) Aug. 2-7, 1955
3. "The Faculty Follies" Jan. 23, 1956 (written and directed by Bella D. Manalo in tribute to the memory of Father John P. Delany, S.J. who passed away a week before the performance)
4. Henrik Ibsen's "Hedda Gabler" Feb. 16-26, 1956
Operetta:
Another pioneering project was his operetta, "Hiyas ng Nayon."
The 3-act music drama was the first ever to be written in Tagalog, and music entirely of an indigenous, Filipine-styled bent, based on such folk-songs as Leron-leron Sinta, Sarumbanggi, and Dandansoy. It was premiered on Dec. 8, 1955 and had subsequent performances in theatres all over the country.
The Arena Stage: Washington D.C.
One of the first not-for-profit theaters in the United States and a pioneer of the regional theater movement, Rosendo participated in productions of the 1962-63 Season. Many of these actors working in these productions were just getting ready to spring into prominence in the stage, television, and film world–they were "paying their dues" at The Arena Stage. Appearing in these photographs with Rosendo are names like Kelly Jean Peters, Bella Jarrett, Harry Bergman, Kendall Clark, Tom Toner, Marie Carroll, Alan Oppenheimer, and Rene Auberjonois. He was invited to appear in the roll of an "Irish pianist," in the Brendan Behan Broadway play "The Hostage."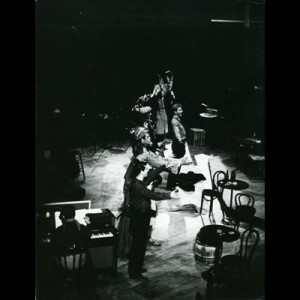 He was surprised to be cast in the roll. His protests "but I am a Filipino…" were cut short by producing director Zelda Fichandler who said, "You can be an Irish-Filipino." He also appeared in the "Three-Penny Opera" in the same season (1962-63).
The Music Box Theater, Swoyersville, PA:


Upon arriving in Northeast Pennsylvania in the late 60's, Rosendo would establish himself as a busy freelance accompanist. He would frequently be asked to help in the professional local theaters in their musical productions. In 1981, in his hometown of Swoyersville, PA, a dinner theater would open called The Music Box Dinner Playhouse. Ros would serve as the musical director for productions for the theater's first few years. He would also involve his oldest son, Erik on the drums.
Ballet:
One genre which eluded this very prolific composer throughout his life was formal dance. His final composition was commissioned by former Rockette/Miss Pennsylvania 1967 Barbara Woronko Anzalone, who is the director of the Northeastern Academy of Dancing. Ms. Woronko asked for music from Rosendo in 1993 to be used in a ballet called "Melinda's Masquerade." Ros was incapacitated and very ill but set to work for this, his very first ballet. A year later he would put his pencil down in completion, and soon after succumb to his illness. The work would be performed months later, conducted by his oldest son, Erik. The promotional article in the Times Leader, Thursday, September 14, 1995 can still be found in the Times Leader archives.