This page will showcase articles and features from various publications.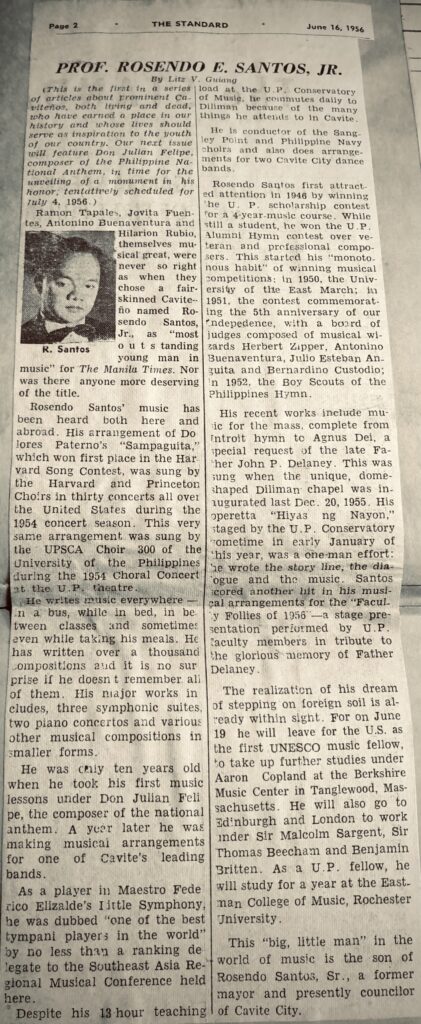 Transcription:
The Standard, June 16, 1956
PROF. ROSENDO E. SANTOS, JR.
by Litz V. Guiang
(This is the first in a series of articles about prominent Caviteños, both living and dead, who have earned a place in our history and whose lives should serve as inspiration to the youth of our country. Our next issue will feature Don Julian Felipe, composer of the Philippine National Anthem, in time for the unveiling of a monument in his honor, tentatively scheduled for July 4, 1956.)
Ramon Tapales, Jovita Fuentes, Antonino Buenaventura and Hilarion Rubio, themselves musical great, were never so right as when they chose fair-skinned Caviteño named Rosendo Santos, Jr., as "most outstanding young man in music" for The Manila Times. Nor was there anyone more deserving of the title.
Rosendo Santos' music has been heard both here and abroad. His arrangement of Dolores Paterno's "Sampaguita," which won first place in the Harvard Song Contest, was sung by the Harvard and Princeton Choirs in thirty concerts all over the United States during the 1954 concert season. This very same arrangement was sung by the UPSCA Choir 300 of the University of the Philippines during the 1954 Choral Concert at the U.P. theatre.
He writes music everywhere—in a bus, while in bed, in between classes and sometimes even while taking his meals. He has written over a thousand compositions and it is no surprise if he doesn't remember all of them. His major works includes, three symphonic suites, two piano concertos and various other musical compositions in smaller forms.
He was only ten years old when he took his first music lessons under Don Julian Felipe, the composer of the national anthem. A year later he was making musical arrangements for one of Cavite's leading bands.
As a player in Maestro Federico Elizalde's Little Symphony, he was dubbed "one of the best tympani players in the world" by no less than a ranking delegate to the Southeast Asia Regional Musical Conference held here.
Despite his 13-hour teaching load at the U.P. Conservatory of Music, he commutes daily to Diliman because of the many things he attends to in Cavite.
He is conductor of the Langley Point and Philippine Navy choirs and also does arrangements for two Cavite City dance bands.
Rosendo Santos first attracted attention in 1946 by winning the U.P. scholarship contest for a 4-year music course. While still a student, he won the U.P. Alumni Hymn contest over veteran and professional composers. This started his "monotonous habit" of winning musical compositions: in 1950, the University of the East March; in 1951, the contest commemorating the 5th anniversary our independence, with a board of judges composed of musical wizards Herbert Zipper, Antonino Buenaventura, Julio Esteban Anguita and Bernardino Custodio; in 1952, the Boy Scouts of the Philippines Hymn.
His recent works include music for the mass, complete from Introit hymn to Agnus Dei, a special request of the late Father John P. Delaney. This was sung when the unique, dome-shaped Diliman chapel was inaugurated last Dec. 20, 1955. His operetta "Hiyas ng Nayon," staged by the U.P. Conservatory sometime in the early January of this year, was a one-man effort: he wrote the story line, the dialogue and the music. Santos scored another hit in his musical arrangements for the "Faculty Follies of 1956"—a stage presentation performed by U.P. faculty members in tribute to the glorious memory of Father Delaney.
The realization of this dream of stepping on foreign soil is already within sight. For on June 19 he will leave for the U.S. as the first UNESCO music fellow, to take up further studies under Aaron Copland at the Berkshire Music Center in Tangelwood, Massachusetts. He will also go to Edinburgh and London to work under Sir Malcolm Sargent, Sir Thomas Beecham and Benjamin Britten. As a U.P. fellow, he will study for a year at the Eastman College of Music, Rochester University.
This "big, little man" in the world of music is the son of Rosendo Santos, Sr., a former mayor and presently councilor of Cavite City.