Rosendo's life had never been without involvement in the Church. From the time that he was old enough to be responsible for music in the Catholic masses, he was invited to be choir director at several Roman Catholic churches. His reputation as a church musician spread rapidly and as he matured in age, his many professional positions also broadened beyond the masses. Always, his participation included preparing/composing music, rehearsing/conducting other musicians, as well as performing in choirs or accompanying congregations as a pianist/organist. His sacred composition covered a prolific range of idioms: masses, instrumental pieces, solos, choir anthems, etc. He endlessly and generously composed music to suit individual ability, enabling even amateur musicians to participate in the music worship experience. At his behest, many discovered a latent and previously untapped musical ability!
Many lifelong musical and personal relationships were forged as a result of his involvement in the many churches in which he served. Being an educator outside of the church also gave him the opportunity to showcase his students' talents within the church and enhance the worship experience for all. In addition, he invited professional musicians to offer their abilities. Music was always a uniquely grandiose and enriching experience wherever he would be serving.
It was while participating in the choir at Wesley Methodist Church in Morgantown, West Virginia (1964) that he would meet his future bride, Harriet Clendenin, who had a musical talent as a soprano sufficient enough to win his heart and respect. As well as an accomplished vocalist, she also would enter the Christian ministry, solidifying a formidable and inspirational team that would attract countless parishioners to their services.
Some of the prominent church experiences of Rosendo's life are described below: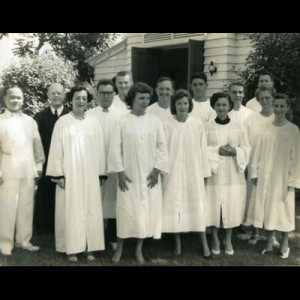 Sangley Base Point Choir – Philippine Naval Choir
Rosendo was invited to be the choir director/ organist at the base at the U.S. Naval Station Sangley Point. It was a service that was ecumenical (all denominations participated together). This meant that he had to be flexible enough to "work with" pastors of all traditions. Pastors would not stay long; Ros's music ministry often acted as the only continuous aspect of the worship there. He had a very loyal choir who often used this choir as a source of fellowship other than worship.

UPSCA (University of the Philippines Student Catholic Action):
Rosendo was reliable supporter of this organization. Among the contributions associated with UPSCA was his work "Hiyas ng Nayon" the first significant operetta in 3-acts written in native language Tagalog premiered on December 8, 1955.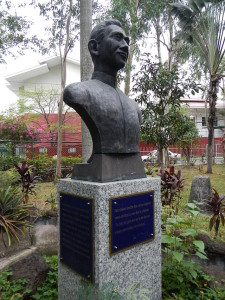 Another important UPSCA affiliated event was the first mass of the newly-built Chapel of the Holy Sacrifice. Commissioned by Father John P. Delaney, S.J., Ros composed "Missa Chorale" to be offered in the landmark Catholic chapel's first mass celebrated on December 20, 1955.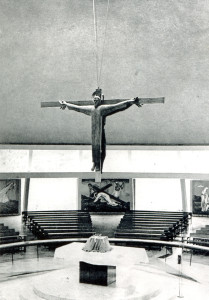 On January 12, 2005, the church was recognized as a National Historical Landmark and a Cultural Treasure by the National Historical Institute and the National Museum, respectively.
Catholic University of America
Rosendo was involved fully in the worship experiences during his stay at this school. Obviously, it was a time of change within the Roman Catholic Church because of the changes from Latin to English spoken and sung in the masses. He wrote two published musical settings using English text and singable responses. These Mass settings were popular, especially during the first five years after the Second Vatican Council.
He was also involved in the choir in Chevy Chase, Maryland.
Wesley United Methodist Church, Morgantown, West Virginia
Rosendo attended this church for the two years that he studied at West Virginia University while working on his Doctorate. He sang in the choir and wrote original music to be performed by the choir and other soloists. His sponsor family was musical: both played cello, so Ros wrote many solos for them to use during the service. His wedding on June 5, 1966 had all-Santos music from Processional to Recessional.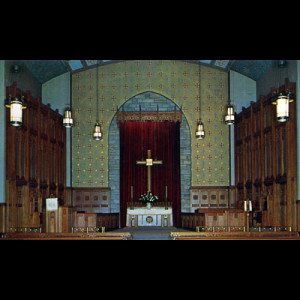 Oxon Hill Church of Christ in Oxon Hill, Maryland
When Rosendo and Harriet moved to Silver Spring, Maryland to begin their marriage, Ros was invited to be the choir director/organist at this church. Again, he adapted his wonderful composing skills to the needs of a smaller congregation who originally worshiped in a public school building.
First United Methodist Church in Wilkes-Barre, Pennsylvania
Rosendo became a part of the music faculty of Wilkes College in 1968. He and Harriet, while visiting First United Methodist Church in Wilkes-Barre, a large urban church, were immediately hired to take part-time positions. Ros, as Choir Director of Special Music and Harriet as Director of Christian Education. The family had a wonderful ministry in this church.
Lehman United Methodist Church in Lehman, Pennsylvania
The Santos family decided to accept a new choir director/organist position in a church in an area that was growing. The Flood of 1972 had caused a migration outside of the city and the churches in the rural "Back Mountain" would slowly be the creative and active congregations. During these years, Rosendo had a large choir and he wrote an original anthem for them every week! It was from this church that Harriet would be called to her own pastoral ministry at Huntsville, a church close-by.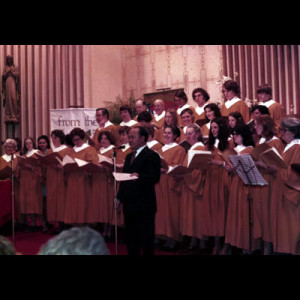 Huntsville United Methodist Church in Huntsville, Pennsylvania
Not only did Rosendo continue his musical ministry at Lehman, he managed to be the organist at Huntsville where Harriet first served as pastor. He attended her church early and left quickly to drive to Lehman. The people loved his humor and especially the delight that he had in being in ministry with Pastor Harriet. She would fully admit that it was often frustrating to have him ignore the pastor's suggestions: for him, she was not pastor, but wife!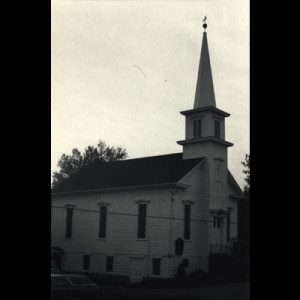 Shavertown United Methodist Church in Shavertown, Pennsylvania
This church would be the final choir/organist position he would have. His illness was discovered while he was serving in this church; yet, for Harriet and Rosendo, this church represented the most exciting and creative ministries they had experienced. The church grew so quickly that two new services were added to accommodate the many worshipers. Ros continued to write new anthems, endear himself to his choir as well as the congregation. The children participated totally in the services. It was a wonderful family ministry. When Ros died in 1994, there were over 450 people in attendance to remember the great contribution he had made to the life of the churches he served.